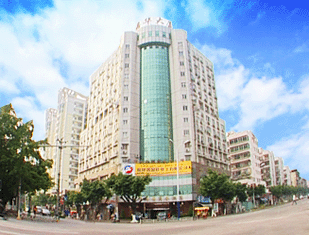 Fujian Xin Zhan Wang Group Co., Ltd. is the largest and most professional established cooperation of domestic independent brand, specializing in producing automobile paint and industrial paint. The group owns many subsidiary companies and holding companies, including Zhangzhou Xin Zhan Wang Chemical Industry Co., Ltd.、Zhangzhou Xin Zhan Wang Logistic Co., Ltd.、Xiamen Xin Zhan Wang Automotive Materials Co., Ltd.、Xiamen Xin Long Cheng Electronics Technology Co., Ltd., specializing in automobile paint, industrial paint, alkyd high-temperature paint, music instruments paint, hand paint, floor paint, UV light-cured paint, bathroom paint and new high-tech products such as automobile-related electronic products.
HARDWARE
With its headquarter in Zhangzhou, the prospering west-bank economic region, Fujian Xin Zhan Wang Group Co., Ltd. sets its production base in the border trade tourist district in Zhaoan. Covering an area of 40,000 square meters, it includes super luxurious modern landscape style buildings and standardized factory buildings hidden in the green trees and flowers. In order to ensure the stability of product quality, Xin Zhan Wang Group makes large investment in domestically advanced manufacturing equipments and test apparatus. The group has established technological innovation center, performance testing center, unconventionality testing center, micro-computer analysis center. And at the same, time the group has cofounded with Xiamen University "Xiamen University- Xin Zhan Wang Coating Materials R&D Center"、"Xiamen University Achievement Conversion Center" and "Xiamen University Post-graduate Training Base".
SOFTWARE
The group imported a large number of researchers from major scientific research institutions to form strong talent group. Relying on the combination of researching and producing to promote the technological upgrading, the group maintains long-term cooperation relationship with established co-operations in Germany, Britain and the USA, which provides strong support for the group's development and process improvement. Xin Zhan Wang R&D Center has developed more than a hundred new technology and many of which filled in the domestic blank of long-term dependence on technology imports and has been granted the national patent. The group also involved in the development of standardized paint several times. It has achieved quality system authentication of TS16949 global automotive production and spare parts repair, ISO9001: 2000 quality management system, ISO14001: 2004 environmental management system, the EU SGS Environmental Management System, ROSH certification and other certification. In order to improve the enterprise's core competitiveness, the group adopted a comprehensive ERP software management system and remote monitoring systems. Also, a dangerous goods logistic transportation team is set up with GPS satellite positioning system installed to ensure the timeliness of product transportation.
SALES NETWORK
After many years of great effort, Xin Zhan Wang auto paint has been appointed as domestic special paints by dozens of car manufacturers and enjoys a market share of more than 30% in the domestic auto paint market as a national brand. Xin Zhan Wang set up a service network all around the country and there are offices in major cities. There are professional and technical personnel to provide customers with timely, effective technical support and after-sales service so as to ensure smooth information and logistics flows. In addition, Xin Zhan Wang Group has entered the automotive maintenance market strategically, setting up dozens of Xin Zhan Wang brand stores across the country.
HONORS
With the comprehensive strength growing, doubled production every year and substantially increasing operational efficiency, Xin Zhan Wang was named National Industrial Economy Demonstration Unit, Fujian High-tech Enterprises, Fujian Famous Brand, Fujian Famous Trademark, Spiritual Civilization Unit, Outstanding Service to Economic Construction, Large Taxpayer, Advanced Unit of Production Safety. Xin Zhan Wang has been awarded by China's chemical industry and banking system as the first AAA Credit Enterprise, and was honored by the provincial consumers' association the eligibility to use 3.15 Integrity Marks.
"Everything is for the customer" is a group of long-term aim of the service; "full pursuit of excellence" is the goal of all staffs.
Spark of Xin Zhan Wang, vision of the world!